Booking.com8.1
Expedia.nl8.8
TripAdvisor.nl7.0
Zoover.nl8.5
Google8.8
Modern hotel in Burgh-Haamstede
Welcome to Fletcher Strandhotel Haamstede! This luxurious hotel lies at a short distance of the beautiful coast of Zeeland. From here you can enjoy lovely strolls through the dunes and easily discover picturesque villages such as Renesse en Burgh-Haamstede.
Modern, luxurious hotel
Perfectly located at the coast of Zeeland
Culinary hotspot Bar Bistro DuCo Haamstede
7 minutes cycling to the beach
BLUE Spa Haamstede (against payment) and fitness area

Wonderful facilities
This luxurious hotel the perfect base for a relaxed weekend at the coast of Zeeland. You will not only relax due to the peaceful surroundings, but also due to BLUE Spa Haamstede where you can relax in one of the five sauna's or enjoy massage or beauty treatment against payment. Are you a sportsfanatic? Do not worry, you can get rid of that energy exercising at a great variety of equipment in the fitness area of the hotel. Whether you are completely relaxed due to a visit at the BLUE Spa or just enjoyed a wonderful work-out in the fitness area, we would like to welcome you at Bar Bistro DuCo Haamstede for a delicious dinner.
Nearby the coast of Zeeland
The hotel is located directly at the stunning panoramic dune landscape and nearby picturesque villages such Renesse and Burgh-Haamstede. You are just at the right place for a carefree weekend at the coast of Zeeland! Do you enjoy relaxing cycling and hiking tours? The surroundings of the hotel are perfect for such activities. To make it easy on yourself you can rent an e-bike at the hotel!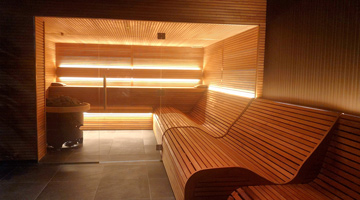 BLUE Spa Haamstede
Relax in one of the five saunas or book a massage or beauty treatment and feel completely at ease.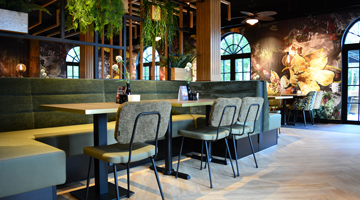 Photos and videos
Are you curious about the ambiance of this luxurious hotel? View the photos of our hotel and you will get an impression. 
Discover the surroundings
Fletcher Strandhotel Haamstede is perfect for a care free weekend at the Zeeuwse coast! Visit the various beaches and peaceful nature. One should also visit the Zeeuwse villages and towns nearby the hotel.